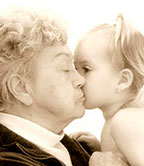 We all want to be remembered. But will your grandchildren, and theirs, know only your name? You have so much more to offer! Whether in the story of your life, the story of a loved one, or another book you have in you.
We each live a unique life. Our personal experiences fascinate those who love us. Our stories are rich with memories of people and places. Dramatic in the challenges we've faced. Stimulating in the lessons we've learned. Powerful in the decisions we've made. Sweeping in the love, heartbreak, joy, and pride we've felt.
Your stories, or those of someone you love, are the most valuable legacy that can be passed down. Don't put off preserving them—start today.
If you're an author ready to share a book you've written, whether you want to pitch it to a commercial publisher or self-publish, it's wise to invest in skilled editing services. The editorial services offered by print-on-demand publishers give only cursory attention to your manuscript. With an editor who takes a serious interest in you, your story, and your writing, the work you send out will truly shine and reflect well on you as a professional.
But, where to begin?
With Paula Stahel as your personal memoirist, ghostwriter, editor, teacher, or consultant.