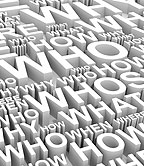 Have a question not answered here? Contact me directly, and I'll be sure to respond.
Q. I want to write my stories but don't know where to start. What do you recommend?
A. Start anywhere. It doesn't matter what you write first, because we are simply "mediums" for the stories that want to be told. Sit down with paper and pencil and write whatever memory comes to mind. Don't worry if that memory veers into another one. Write whatever comes. Also, make time to write every single day, even if for only ten minutes. Writing is a habit like any other and your inner muse needs to be nurtured through practice! For even more advice, sit back for a few minutes while I discuss the process with the late Jeff Zazlow on a Wall Street Journal podcast,"How to Craft a Compelling Memoir."
Q. We really want to preserve our grandparents' stories, but they keep saying 'no.' How can we change their minds?
A. There are a number of reasons people hesitate or refuse to preserve their life stories. Many people feel they've done nothing special. We forget that what was "normal" fifty, sixty, seventy years ago is completely foreign to the experiences or comprehension of their grandchildren. It also can help to remind them that each of us  holds a unique perspective of history—a bird's-eye view, shall we say—of times and events that you were not alive to experience.
It's also possible that your grandparents just are not at the proper stage of readiness. The life-review stage is an identified stage of growth—just as are infancy, childhood, adolescence, adulthood and so on. This life-stage is rarely entered before age seventy, and may not begin until a person reaches their eighties or even nineties.
Sadly, some people experience great trauma or loss as young children that they, rightly, do not ever want to reveal or revisit. For them, life-review is too painful to deal with.
All you can do is gently encourage your grandparents periodically—maybe every year or two. If and when they are ready, they'll open up, and do so gladly and willingly.
Q. Do you accept all clients?
A. No. For various reasons. First, I have a good reputation because I know my limits and interests. If I do not feel a connection to a story or a client, I know I will not do either the justice they deserve. Second, while I like to earn money as much as the next person, I won't take on clients whose works are not yet ready for them to make such an investment. I may offer to consult as a book coach, or encourage them to join a writer's group for where feedback and encouragement, or suggest additional study in elements of craft, or recommend further rewriting before bringing in an editor and spending their own hard-earned money.  When I am approached by an author or client seeking services outside my areas of expertise, I willingly try to help them connect with someone who can provide the help they need.
Q. Can you put me in touch with some of your current clients for a references?
A.  My clients are happy to provide me with references and I will gladly provide names of past clients for you to contact. However, I do not divulge the identities of my current clients until their projects are complete—the clients I work with rely on me to keep them, and their works, completely confidential. Please contact me directly so we can have an initial consultation (free of charge, of course) about your project—that way I'll be able to provide appropriate references.
Q. What types of projects do you specialize in?
A. Primarily non-fiction, personal history, memoir, and historical fiction, and also digital audio histories.
 Q. Do you work on retainer?
A. Yes. Each client's needs differ, and budgets and payment systems are arranged to everyone's satisfaction in advance.
 Q.  I'm looking for something in a memory project other than what I see on your website. Any suggestions?
A. Absolutely! Media today allows such creativity! Memory projects to be created in so many ways. Here are links to some unique forms of preserving and presenting memory projects:
Lisa Kagan works in a vast variety of media, including custom heirloom art, creating truly unique means of preserving special memories. — Family Heirloom Arts
When it comes to compiling those old 16mm, Super-8, or videotapes along with photographs into digital format, Dave Morrison does superb work. — Heritage Film
Decades of experience archiving important business documents led Rick Lippert to expand his company into digitally preserving your precious photos and documents, either doing it for you or making excellent equipment available to you. — E-Z Photo Scan
Looking to organize, protect, and showcase oodles of photos? — Restored Stories