Shameless plugs—not for me but for authors I've collaborated with or edited.
Buy these books! They're all good reads!
My Haley, widow of acclaimed author Alex Haley and major contributor to his world-renowned novel Roots, brings to life the forgotten but true story of the slave seamstress who covertly spirited a ship's plans from Virginia to Washington DC, with history-changing implications for one of the most famous naval battles of the Civil War.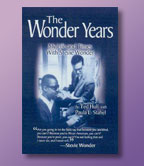 The Wonder Years—My Life and Times with Stevie Wonder
Fresh out of college in the early 1960s, Ted Hull received a phone call one day that changed his life and that of "Little Stevie Wonder." In his memoir, Ted recalls the glamor and grind of life on the road with Motown as private tutor, road manager, and surrogate father to Stevie Wonder during the musical genius's formative teen years.
Born to a teenage mother in a Philadelphia ghetto, Bob Samuels knew society didn't expect him to succeed. But he expected more from himself than society did. Rising to be one of the first African-Americans "granted" entrance to the world of finance in New York City, he became a persistent and unrelenting activist, opening doors and inspiring others who followed. By the time he retired at  fifty-four, his friends and colleagues ranged from David Dinkins to Henry Ford III. When diagnosed with prostate cancer soon after retiring, Bob again set out to blast open new doors, educating men  about the disease. He  founded the National Prostate Cancer Coalition, consulted with the FDA's Oncology Drug Advisory Committee, and testified before Congress. Bob lived his life by the words he titled his book, "Don't tell me I can't!"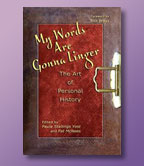 My Words Are Gonna Linger—The Art of Personal History
An anthology of stories written by members of the Association of Personal Historians, their clients, or their students, this book shows the variety of ways life stories and life lessons can be preserved. I am proud to have had two stories of mine chosen for inclusion, and also proud to note the book was published during my tenure as president of this outstanding international association.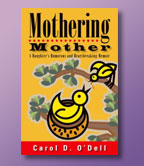 Mothering Mother—A Daughter's Heartbreaking and Humorous Memoir
Carol D. O'Dell's journey to becoming a well-known expert on caregiving began with her own experience caring for her strong-willed preacher mother. Her book, drawn from the journals she kept during the last two years of her mother's life, describes the challenges she faced as her mother's life narrowed due to Parkinson's disease and dementia, while also struggling to nurture two growing daughters and her marriage.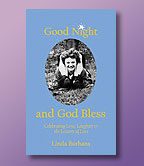 Good Night and God Bless—Celebrating Love, Laughter & the Lessons of Loss
In 2006, JoMcCauley left her life-long home on Long Island to move near her Florida-transplant daughter, Linda Burhans, whose journals convey the hilarity of life as viewed by both mother and daughter. Sharing  laugh-out-loud funny and tear-inducing moments as Jo loses her battle with cancer, Linda reminds us  that love is all that matters.