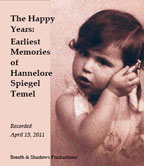 Several years ago a woman called NPR's "Lost & Found Sound" about a paper disk recording she had. Her Swedish grandmother had recorded it more than half a century earlier, but no one had ever heard it. "My mother is eighty-two and her older sister is ninety-two … Doesn't everyone always say, sooner or later, 'If only I could hear my mother's voice again?' "
If only … if only … With an audio history, the voice is preserved forever.
From a single 80-minute recording of a life overview to multiple sessions capturing a lifetime of memories, audio histories are an affordable means of preserving memories. Interviews are digitally recorded at the highest quality. Editing may be light—removing false starts, coughs, and long pauses—or extensive, with material rearranged and music added. Later, you might want the recordings transcribed. Or, you may want them transformed into a beautiful, well-written book. But always, it begins with the voice and the stories.
Listen to excerpts of a few of audio histories and interviews I've done, to get a sense of what I can do for you.
"I had pictures and now I have my John's voice. Thank you for helping make my memories stay alive." —M. Chester, Clearwater, Fla.

John Chester and his twin brother did most everything together, from working on the family farm to going off to World War II. 

http://breathandshadows.com/wp-content/uploads/2013/07/Chester.mp3

"Thank you for the wonderful work you did on my mother's life story. I am so pleased with your ability to draw out her details, keep her on track, and package it so beautifully." —A. Black, Tampa, Fla.

Vickie Rowe's delightful sense of humor was the thread that ran through the entire twelve hours of memories she preserved for her six children, grandchildren, nieces, and nephews.

http://breathandshadows.com/wp-content/uploads/2013/07/Rowe1.mp3

"My thank-yous  are never ending. Your wit and wisdom made this journey so  enjoyable." —Linda Burhans, Seminole, Fla.

After  recording Josephine McCauley's stories, we did a session with her and  each of her children. Here's some of the craziness that went on between Jo and her daughter, Linda.

http://breathandshadows.com/wp-content/uploads/2013/07/Burhans.mp3

Margaret Rose went to war, as a cryptographer in the Women's Army Corp. It was only natural her journalism degree would lead her to start a paper at her first post in New Guinea. 

http://breathandshadows.com/wp-content/uploads/2013/07/Geddes1.mp3

We want to raise our children well, yet what we often don't realize is how they are "raising" us. Here H.M. Kelsey tackles his feelings about both being a father and a son.

http://breathandshadows.com/wp-content/uploads/2013/07/Kelsey.mp3

Those of us affected by severe weather at times know the frustration of being without electricity. Here, Heywood Turner talks about what it's like being responsible for getting the power turned back on.

http://breathandshadows.com/wp-content/uploads/2013/07/Turner.mp3