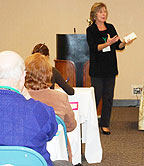 Writing is a solitary pursuit that can be daunting. Whether you've never written before but have a strong desire to set stories down on the page or are a strong writer looking to further improve your skills, working side-by-side with others feeds your creativity and sparks your talent. Along with offering classes, I regularly present workshops at writers' conferences. Contact me to learn more!
"Not only did I enjoy learning and writing about my own life, but I became totally fascinated by my classmates' stories. I now look at every person I meet or know and wonder 'what's your story?' I know everyone has one."

— Cathy Varon
In my classes, participants quickly discover the ability to write in ways they didn't know they could, and their motivation to keep writing is bolstered by working and sharing with others. Currently, I teach in Tampa at the Life Enrichment Center. Pages of My Life is an eight-week program where you'll learn elements of the craft, and make new friends!
"If you have ever considered writing a book or your life story, Pages of My Life is for you. Paula's writing class is the best value for writers in the Tampa Bay area. You may not think you are a writer. After working with Paula you will realize you are one."

— Robert P. Miles, author: The Warren Buffett CEO: Secrets from the Berkshire Hathaway Manager
Classes, workshops, and seminars can also be structured for groups interested in invigorating programs that will engage and enrich members.
"I have told this to my family and friends: 'I have four college degrees so I've taken lots of classes. This writing class is the best class I've ever taken. I love it!' I am also a veteran teacher and I applaud the techniques and abilities you employ."

— Jennifer Correll, Ph.D.
Contact me to learn how a one-time or ongoing writing program can be structured to meet your group's interest, or to register for my upcoming classes.