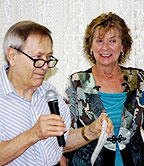 Over the years I've presented audience-engaging programs to far too many civic groups, business organizations, church groups, and conferences to list them all here.
I certainly enjoyed meeting you personally and hope we can keep you on the list of potential faculty for future conferences … Again, thank you for making the [2013] conference so well received by our attendees!

— Wm. Darrah Whitaker, program chair, Las Vegas Writer's Conference
I just wanted to tell you that you did an awesome job presenting to the Tampa Writers Alliance. Once it was over, [a member] commented to me, "She did a very good job!" We have seen a lot of speakers, so this was honestly good praise.

— Michael Darling, Tampa Writers Alliance president
Whether you're looking for a 20-minute talk, a 90-minute workshop, or a two-hour interactive group program, you can count on me to develop a program specifically tailored to your group's interest.
You were quite a hit! So many … came to tell me how entertaining and informative your program was. We're really glad you could do this for us.

— J. Oxendine, Charleston, S. Carolina
82nd Airborne 325 Glider Infantry Reunion chair
For general audiences, I specialize in topics related to preserving our personal histories and sharing our life wisdom.
Everybody was so excited and so thrilled that you [presented to the Network of Executive Women retreat]. They just couldn't say enough … it was just phenomenal and I just wanted to let you know. Thanks again for everything.

— Edna Broyles, event chair, Tampa, Fla.
When I share the importance of building on-going business histories, professionals are often surprised to learn how doing so builds employee loyalty and commitment to success.