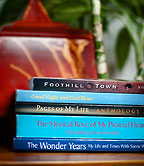 Do you need an editor who'll care as much about your book as you do? A ghostwriter or collaborator to help you complete it? Do you have a finished manuscript that would benefit from a thorough critique?
Let me help you craft a manuscript you'll be proud to have your name on.
A good editor brings out the best in your work by polishing it. A good ghostwriter or collaborator develops a work based on your input, shaping it to your message, conveying it in your voice. A critique ensures that all aspects of your manuscript fulfill your intention. In all cases, the glowing result shines on you—because my role is to make your work the best it can be while I remain virtually invisible!
As all projects differ, my fees are based on the services you require.
Editing:
I offer different levels of editing services, depending on your needs. Your manuscript will be edited both on the page and the computer, according to standards set by The Chicago Manual of Style, which is the bible of the publishing industry. I make edits to improve sentence structure, clarity, flow, and expression in a manner that allows you, the author, to accept or reject these recommendations.
Before accepting a project, I request a sample of twenty pages to review at no charge. We'll then have an in-depth discussion to determine your needs, and how to achieve them within your budget.
Contact me to arrange a free consultation.
Ghostwriting & Collaborating:
We'll work closely together to produce a manuscript that carries your name as author, taking your book from  idea to ready-to-publish. Support is also available in developing a book proposal to submit to potential agents and publishers.
Contact me to arrange a free consultation.
Publishing Services:
I contract with experienced, award-winning graphic designers for book covers and layout, top-notch printing companies, and superb bookbinders, each specifically selected to meet your particular needs.
Contact me for a free consultation.